Selecting and Customizing Units
Currently selected count units are displayed in the bottom right corner of AnyMini application:

You can change currently selected text count units by clicking Units button. Clicking Units button activates Select and customize volume units window: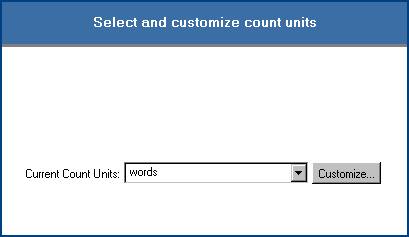 To change current text count units, select necessary count unit from Current Count Units list.
All count units in AnyCount Text Count Engine are derived from 3 basic atomic values:
· words
· characters with spaces
· characters without spaces.
You can edit existing count units (for instance, change number of characters in a line or in a page) or create your own count units.

If you click Customize button, Customize Count Units dialog box opens, where you can click on various count units and customize them. While in AnyCount Text Count Software you have choice of all 3 atomic values (like you see on the picture below) …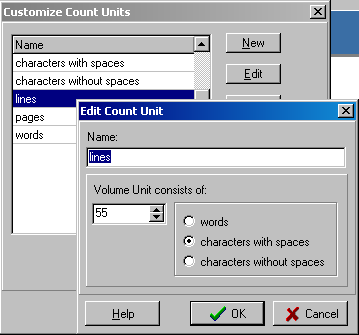 … each of 3 AnyMini text count programs is limited to only one atomic count unit. AnyMini C uses characters with spaces or characters without spaces, characters without spaces as well as standard pages (consisting out of either characters with spaces or out of characters without spaces) as text count units: